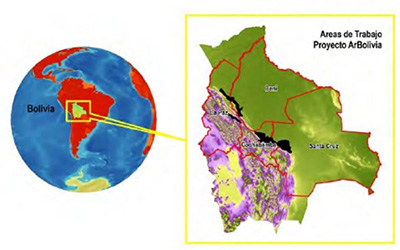 Location
The settler areas of the Cochabamba Tropics, the Province of Ichilo in the department of Santa Cruz, Northern La Paz, and Western Beni.
General description
From a biophysical perspective the portfolio area is quite uniform; the terrain is relatively flat, the precipitation and temperature patterns do not fluctuate significantly and the soil texture and depth remain relatively homogeneous throughout. The Andes mountains are located immediately south of the portfolio area. The rivers flow in a north-easterly direction. The portfolio area ranges in elevation from 250 to 450 meters above sea level. More than 75% of the area has a slope angle of less than 5%.
There are five climate stations within the portfolio region. Average annual rainfall is highest in the La Jota station with an average of 4449 mm, with most precipitation falling between the months of November and March. Going further to the north and east average annual rainfall decreases to 1725 mm.
The average annual temperature is 24.7oC. Average declines during the months June and July. Temperatures are between 6oC and 39oC. From May to September, temperature can drop down for several days, due to cold winds coming from the south (called surazos). These relatively short periods with low temperatures are generally combined with intensive rainfall.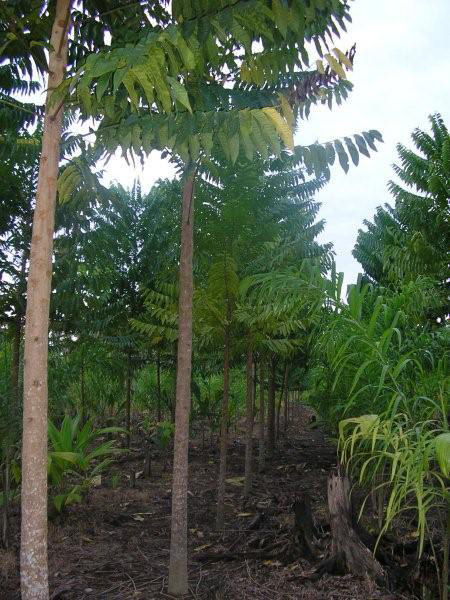 Socio economic impact
The project not only proposes reforestation as beneficiary activity for the future but also more efficient production systems, like agro forestry systems and silvopastoril systems. That way work and income are generated for the involved families. The principle economic impacts identified by the farmers as the principle beneficiaries of the project are referring to changes in the level of employment, salaries and as a consequence the level of income of the farmers.
The farming alternatives in the area are analysed in order to show the socio economic impact of the project. The most developed activities are: rice cultivation, cattle farming and on a smaller scale banana and citrus fruits. In the following paragraphs a summary of the study is outlined. The incomes for these activities (rice and cattle) have been calculated and compared with the anticipated income from timber resulting from the project. The study will be repeated every five years to evaluate the social and economic impacts of the project. The main social and economic benefits are:
Positive impact on sustainable landuse of Natural Resources.
Long term economic development in the area.
Project activities respond to local perspectives and livelihood strategies of the land holders.