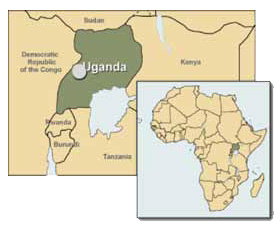 General description of the project activity
The Ugandan reforestation project combines climate, environmental and social benefits and serves as an example for sustainable development in the heart of East Africa.
The reforestation project is located in the Albertine Rift in Uganda, an area stretching from the Virungas on the border between Uganda and Rwanda up to the northern tip of Lake Albert.
The country, with an average altitude of 1000m, lies on the East African Plateau and is the source of the Nile, the longest river in the world. As the least developed country (LDC), Uganda is in need of sustainable long-term investment.
Uganda, still one of the poorest African countries, with an income level of about half the sub-Saharan average, is in need of funding to foster sustainable development. This reforestation project addresses both the critical local economic situation, educational and environmental issues in the region, and global warming. Besides the project's core activity, great efforts are undertaken in supporting local schools, fighting illiteracy, qualifying local people, and restoring local ecosystems.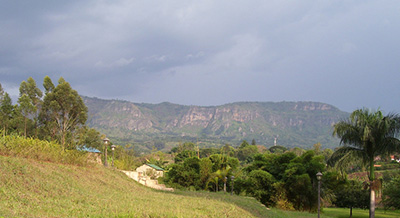 In a formerly degraded area, deforested for illegal timber trade and firewood, the project activity already led to more than one million trees (muses, pine, and eucalyptus) being planted and managed in an advanced agroforestry scheme. The project comprises 120 km², employs more than 600 people, and is the first ever to be granted both Carbon Fix and Climate, Community and Biodiversity (CCBA) certification for its positive social and ecological impact. 20% of the project's acreage is reserved for conservation, protecting wetlands along riverbeds throughout the plantation area.
A lot of hands-on work is necessary to grow seedlings and prevent weeds from choking out the saplings. Later, grazing sheep are used to control the weeds, avoiding the use of pesticides.
Initially, the best forestry students in the country were recruited to learn about the project. Subsequently, the recruits were tasked with managing the project with the assistance of international experts to enable knowledge transfer.